Wine tour for groups
Wine tours
Small and medium groups are welcome
to taste delicious wines
The group wine tours in Tuscan wine tradition begin with the story of Sant'Agnese Farm and it continues in the winery where it's possible to admire two limited editions: Super Tuscan Campo Sorbaia and Cantico - just 500 bottles every year. From here the groups move toward the nearby Acetaia to learn about the making of Sant'Agnese's unique aged vinegars.
The group wine tours continues with the taste of Sant'Agnese products, the typical Tuscan bread, the extra virgin olive oil and specially the wines Abate Sant'Agnese, the elegant Riserva Casabianca, which accompanies a plate of warm bruschetta, organically grown on the grounds of the estate.
Read more
Immediately enter the vinegar Luna di Miele, prepared without adding colorants or caramel served with a glass of Campo Sorbaia or Cantico, the estate's two Super Tuscan. Sant'Agnese group wine tours end with two scoops of vanilla ice-cream with a couple of drops of one of three decades old vinegars: Luna di Miele or Perla Nera, the latter being prepared with honey and apples.
The products of Sant'Agnese can't be found in restaurants, shops or supermarkets, just on this website or directly in the farm and the products can be ordered online and then shipped anywhere in the world.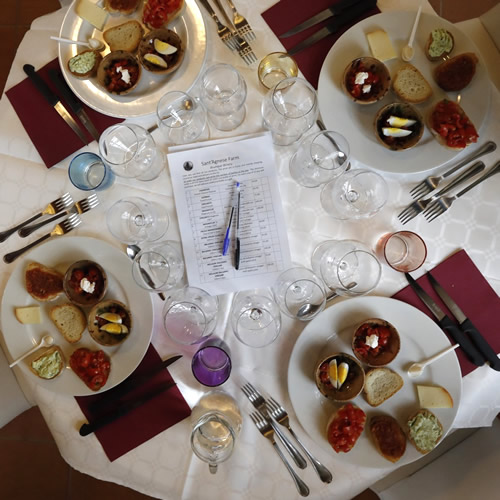 We recommend to book
your wine tasting in advance
Availability for those who do not book is not guaranteed.
Tasting room is open from 10 am to 5 pm
More wine tours

from Sant'Agnese